How Warehouses Can Streamline Product Returns and Recalls
Reading Time:
4
minutes
Experienced warehouse managers know that product returns and recalls are inevitable, and that processing them quickly is a necessity. Distribution centers and 3PLs must provide exceptional logistics operations to keep costs down and maintain customer satisfaction, especially now with the higher influx of e-commerce business. This is where your warehouse management system (WMS) software is required. By providing the right tools, information and ERP system integrations, your WMS software can work with established return procedures for more efficient processing. In addition, product recalls that are required, can be handled in a timely, efficient, and accurate manner to satisfy the recall. For any warehouse that handles food or food related products, this isn't a nice to have…it is a requirement.
Your WMS Software Can Ease the Process
Dealing with product returns and recalls doesn't have to be a headache. With the best software for warehouse management, your 3PL or distribution facility can capture real-time data related to product returns and recalls efficiently, allowing for better decision-making and increased productivity overall.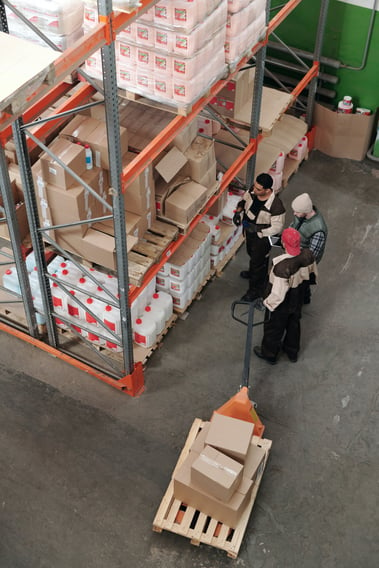 WMS software should always provide traceability and product information for each item received, shipped, and stored. This includes bin and pallet assignments, lot numbers, serial numbers, and expiration dates. Cadre Technologies' Cadence WMS provide(s) access to complex data in an instant. Lot and expiration date information is attached to each item's bar code as it is received. All inventory transactions require a scan of the bar code so you know where each piece of inventory is in your warehouse at any given time and can easily access information on returned or recalled inventory. Also, it provides a history of any movement, what is remaining in inventory, who it was shipped to, etc. And the history is available for years.
Inbound and outbound logistics operations are key to product returns and recalls. Quality WMS software includes scheduling features that will simplify returns, allowing preplanning of order and material routing to their proper staging area upon receipt. While return standards are typically pre-set per customer, recall processes happen on an individual item basis that can also be traced and tracked through your WMS software. In addition, the WMS will integrate with internal or external ERP systems, to track returns and provide information regarding the labor requirements to complete the return process. And to properly handle the returned product to either make available for sale or to return to the vendor.
Establishing Overall Return Guidelines
Every company has a set of specific return guidelines that are adjusted for customer requirements. However, each warehouse also follows a standard set of procedures for returned goods. Every step in the process can be stored in Cadence for full return traceability, very similar to standard receiving.
1. Following RGA/RMA Procedures
Upon initial product return, a Return Merchandise Authorization (RMA) or Return Goods Authorization (RGA) form must be executed and can be generated through the ERP system. Form information usually includes the customer's name, the date the return was authorized, the order number, and the carrier tracking number. When a return arrives at the warehouse, it is compared to the issued RMA/RGA for accuracy. Once received, returned products should be sent to a specified area in the warehouse for inspection and marked accordingly. When utilizing Cadence, it will guide receiving on where to take the inventory and how to handle its quality control process through user-defined process steps. It is important to properly record disposition and reason codes.
2. Product Inspection
All items returned to the warehouse should go through a thorough quality inspection process that includes checking for carton and product damage. It is important to note that when receiving returned food, it must always be logged and disposed of as food items cannot be resold once returned. For other non-food products, if the packaging is damaged and the item is not, products may be repackaged and added back into inventory for resale. Actual damaged products are returned to the manufacturer or destroyed per customer instructions, recycling procedures, or governing agency guidelines. All processes follow standard WMS workflows depending on the disposition.
3. Repackaging for Resale
Sometimes, these items are offered at discounted prices, donated to charity or destroyed. Repacks occur either at the warehouse facility or the manufacturer depending on the 3PL's agreement with the client.
Product Recall Procedure
Distributors and 3PLs can both be involved in product recalls. When handling a recall, a warehouse must be able to provide complete life cycle information on a particular SKU, including lot number and expiration date. It's imperative that the warehouse knows what recalled inventory is on hand, quantities shipped out already and to whom, and how much recalled product is to be received at the facility. As a general rule, a recall system needs to include the following:
Report all prior shipments of recalled products to client.
Immediately put a hold on all of the recalled SKUs. No product marked for recall should be allocated or shipped, even if it is on the staging dock.
Assign a segregated area of the warehouse for recalled products. For better visual identification, indicate the area with appropriate signage and mark items with hold tags.
Alert customers. This may be done by the manufacturer or distributor depending on procedural recall assignments. Customer communication typically is in the form of an email and sometimes accompanied by a press release.
Do not receive additional recalled product from the manufacturer even if it is on order.
Change the class (i.e., disposition) code of the recalled product SKU for potential ordering, picking, receiving (returned), or destroy under specified guidelines and regulations.
Generate and issue appropriate reports to the client.
Some clients may require a mock recall as part of their partnership with the warehouse to ensure that the process will run smoothly and accurately, should a recall occur.
Spotting Trends in Returned or Recalled Items
The best software for warehouse management can also aid your clients in identifying return or recall trends. Customized reports can include which products have been returned, why, when, and how often over selected periods of time. This could help identify potential recalls, uncover packaging or shipping issues and problems, and highlight possible product improvements. The ability to provide this information to your clients gives your warehouse a competitive advantage.
Effectively manage product returns and recalls at your warehouse with the right technology by your side, including the best software for warehouse management, Cadence WMS from Cadre. By being proactive and working together with your clients, 3PLs and distributors can improve the overall return and recall process, saving both the manufacturer and warehouse time and money.
Are you struggling with returns or product recalls? Is it time to switch to a new WMS? Contact Cadre Technologies today to help you find a solution that is catered to your needs.
https://www.cadretech.com/wp-content/uploads/2022/06/How-Warehouses-Can-Streamline-Product-Returns-and-Recalls.jpg
457
675
Cadre
https://cadretech.com/wp-content/uploads/2022/03/logo-cadre.png
Cadre
2022-05-06 05:14:00
2023-09-05 15:23:19
How Warehouses Can Streamline Product Returns and Recalls