Inventory Management Software vs Warehouse Management Software – What's Right for my Company
Reading Time:
5
minutes
Most warehouse and third-party logistics operators are familiar with inventory management software when it comes to supply chain management best practices. However, many don't realize that there is a difference between inventory management software and warehouse management software whether you are using it for distribution, manufacturing, or retail businesses.
While both types of systems serve similar purposes, they have different functions and features. In this blog post, we'll explore the differences between warehouse management and inventory management system software to help you decide which system is right for your business.
How Warehouse Management and Inventory Management Systems Differ
Inventory management systems help warehouses, manufacturers, and 3PLs count and track inventory levels on finished goods or raw materials, ensuring that items are properly chosen and removed from stock, rotated accordingly, and located in proper storage areas.
Warehouse management systems coordinate workflows for the entire warehouse relating to inventory, order fill, labor, and operational processes – in effect pulling inventory management under its wing for managing stock.
The Distinction Between Warehouse Management and Inventory Management Software
Inventory Management Software
The primary purpose of inventory management system (IMS) software is to keep track of what products you have in stock. This type of software is designed to provide accurate real-time data on the inventory levels in your warehouse, their location, and when they need to be reordered. It also allows you to quickly locate items in your warehouse when customers make an order.
When purchasing for your warehouse inventory management software, look for the following features:
Once again, warehouse inventory management software is a good starting point for small businesses, midsize businesses, or larger businesses that do not currently use a software system for inventory control in their warehouse processes.
Warehouse Management Software
On the other hand, warehouse management system (WMS) software can help 3PLs, distributors, and similar companies manage their day-to-day operations with more robust features than those found in inventory management software.
Warehouse management software is flexible and can be used by businesses of any size for their inventory management and warehouse management supply chain needs. It often is a much-needed upgrade from inventory management software that growing companies need for their inventory, logistics, and warehouse processes.
The best WMS software for inventory management and warehouse management provides the following features and more!
Real-Time Inventory Tracking: Whether products are on their way, in-house, or being shipped, you will know where items are at any given time.
Custom Reporting, Forecasting, and Analytics: These features are built right into the best inventory management software, allowing you to track sales trends, demand, and overall storage costs.
SKU Tracking by Lot, Serial, or Batch Numbers: This feature aids in meeting hazmat, cold storage, expiration dates, FIFO, FEFO, or government regulation storage requirements. It also makes finding and rotating stock a snap.
Multi-Warehouse Management: Manage all warehouse locations with just one software.
Receiving, Picking, and Shipping: Just one WMS software is needed to handle these daily warehouse processes whether you operate on a just-in-time basis or just-in-case.
Logistics Integration: Coordinate with shippers to meet shipping deadlines and for faster deliveries.
Radio Frequency (RF): Easily scan inventory in and out of your 3PL or warehouse with handheld or voice-operated devices in real-time
ERP Integration: The best WMS software packages easily integrate with your ERP system and coordinate with multiple sales channels, suppliers, your accounting system, and purchase orders.
Warehouse System Labor Management: Plan your labor hours for peak season demand, monitor productivity, and generate custom reports with this feature.
Ease of Use: The best warehouse management systems are those that employees are comfortable learning and using day-to-day.
Online Access for Customers and Managers: Increasingly satisfy customers with this feature that allows customers access to real-time inventory counts, purchase order status, and shipping data no matter where they are located. This can also be used by management to track processes or do reporting and analytics.
Warehouse management system applications make day-to-day business easier by streamlining warehouse processes, better inventory management, and meeting shipping demands.
Inventory Management vs Warehouse Management: How Do I Choose Between the Two?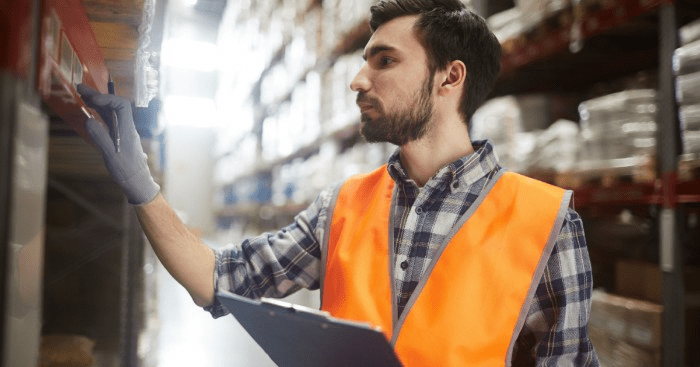 The decision to choose between inventory management and warehouse management software should be based on the size of your business and the scale of your operations.
If you operate a small business warehouse with limited resources, inventory management software is a great option. It's more affordable than warehouse management software and will provide the features you need for managing stock, generating reports, and optimizing processes within your warehouse.
Businesses that benefit the most from instituting an inventory management system are those that had no system, an outdated system, ineffective processes, or manage a low number of SKUs with a high turnover rate, whether large or small.
Meanwhile, companies that operate multiple warehouses or require highly advanced features such as supplier and customer management, multi-warehouse inventory tracking, shipment tracking, RF technology support, and more should opt for warehouse management software. This will provide them with the robust tools they need to optimize their operations and streamline their supply chain.
Companies that are growing and/or require more inventory control and operational features than simple inventory management systems can provide benefit the most from the expanded processes that warehouse management systems provide.
Ultimately, the decision between inventory management and warehouse management software should be made based on the size of your business and the complexity of your operations. Once you've determined which type of software is best for your warehouse, you can start researching specific products and features to find the best solution for your unique needs.
With the right inventory management or warehouse management software, you can improve efficiency and accuracy in your warehouse operations. Don't just make your decision based on price. By choosing the right solution for your business, you can save time and money while improving customer satisfaction.
The Cadre Cadence WMS Software Difference
As an industry leader and award winner in supply chain warehouse management technology, Cadre Technologies takes warehouse management system application development and improvement seriously. Our customer industries include food and beverage, consumer goods, and automotive, just to name a few.
Our team of experts is here to help you choose the best plan for your 3PL, distribution center, manufacturing plant, retail business, or eCommerce operation. We take you from start to finish with professional consulting, pain-free implementation, training, and support with the best inventory management software on the market today.
To learn more about Cadre Technologies, Cadence WMS, or how we can take your business to the next level, contact us today!
https://www.cadretech.com/wp-content/uploads/2023/03/image-3.png
393
700
Cadre
https://cadretech.com/wp-content/uploads/2022/03/logo-cadre.png
Cadre
2023-03-03 19:42:41
2023-09-14 17:25:41
Inventory Management Software vs Warehouse Management Software – What's Right for my Company